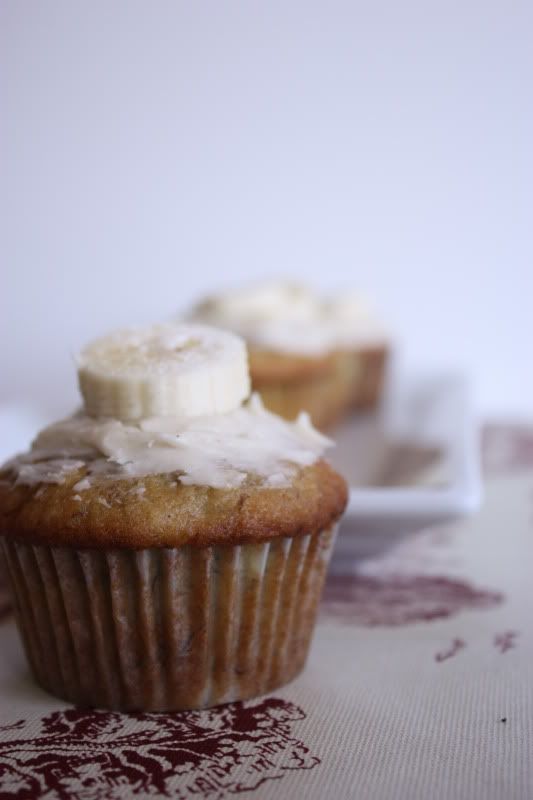 I baked these banana cupcakes with honey-cinnamon frosting last weekend. They were super easy and basically taste like a really moist piece of banana bread with frosting. You definitely can't go wrong with this recipe. The only problem you'll have is deciding whether to eat them for breakfast or as dessert.
I was having some major issues with lighting for these photos so they're not great. I'm learning (slowly…)!
Banana cupcakes with honey cinnamon frosting (adapted from Martha Stewart)
Ingredients
1 1/2 cups all-purpose flour (spooned and leveled)
3/4 cup sugar
1 teaspoon baking powder
1/2 teaspoon baking soda
1/4 teaspoon salt
1/2 cup (1 stick) unsalted butter, melted
1 1/2 cups mashed bananas (about 4 ripe bananas), plus 1 whole banana, for garnish (optional)
2 large eggs
1/2 teaspoon pure vanilla extract
Honey-Cinnamon Frosting (recipe below)
Directions
1.Preheat oven to 350 degrees. Line a standard 12-cup muffin pan with paper liners. In a medium bowl, whisk together flour, sugar, baking powder, baking soda, and salt.
2.Make a well in center of flour mixture. In well, mix together butter, mashed bananas, eggs, and vanilla. Stir to incorporate flour mixture (do not overmix). Dividing evenly, spoon batter into muffin cups.
3.Bake until a toothpick inserted in center of a cupcake comes out clean, 25 to 30 minutes. Remove cupcakes from pan; cool completely on a wire rack. Spread tops with Honey-Cinnamon Frosting. Just before serving, peel and slice banana into rounds, and place one on each cupcake, if desired.
Honey-Cinnamon Frosting
1 1/4 cup confectioners' sugar
1/2 cup (1 stick) unsalted butter, room temperature
1 tablespoon honey
1/8 teaspoon ground cinnamon
Directions
1.In a medium bowl, using an electric mixer, beat confectioners' sugar, unsalted butter, honey, and ground cinnamon until smooth, 4 to 5 minutes
Speaking of cupcakes, have you entered to win cupcakes and macarons from Sweets Bakeshop in St. Paul, MN?