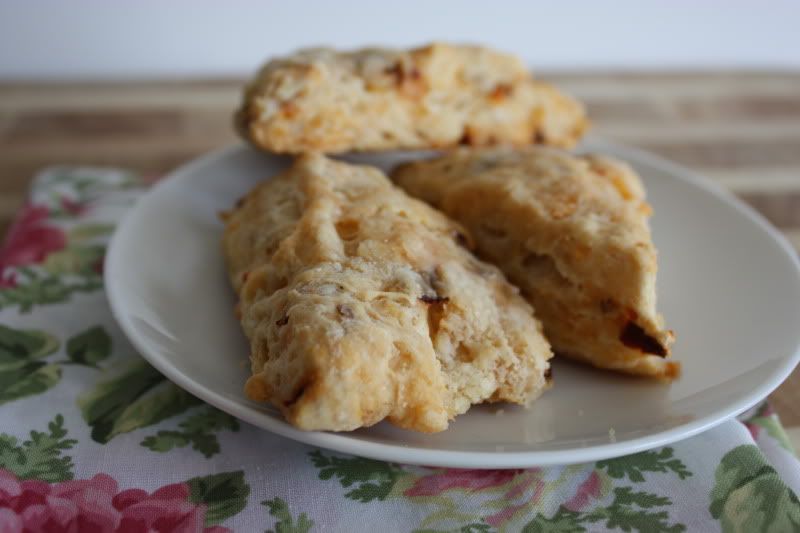 Yesterday's post was all about sweet, sweet cupcakes and today we are switching to savory scones. There is definitely something about scones that creates a feeling of comfort, maybe it is the wonderful scent of flaky dough wafting from the oven along with the anticipation of sitting down to a huge breakfast with a cup of perfectly brewed coffee.
I served these scones at breakfast last Sunday and it was heavenly. They are smoky with a bit of heat from the chipotle chiles, the slightest bite from sharp chedddar and are perfect served with scrambled eggs and bacon.
I slightly modified the recipe because I didn't quite have a full 3/4 cup of sour cream, so I used about 1/2 cup of sour cream (I used original, not fat free) and 1/4 cup nonfat plain yogurt.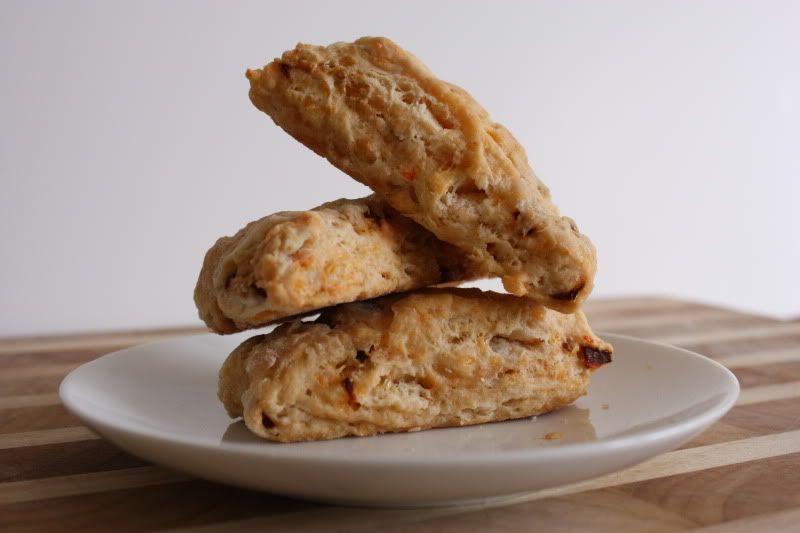 Chipotle cheddar scones (recipe adapted from Cooking Light)
Ingredients
2 cups all-purpose flour (about 9 ounces)
1 tablespoon baking powder
1/2 teaspoon salt
3 tablespoons chilled butter, cut into small pieces
3/4 cup fat-free sour cream
1/2 cup (2 ounces) shredded reduced-fat sharp cheddar cheese
1 tablespoon water
1 tablespoon minced chipotle chile, canned in adobo sauce
1 large egg, lightly beaten
Cooking spray
Preparation
Preheat oven to 350°.
Lightly spoon flour into dry measuring cups; level with a knife. Combine flour, baking powder, and salt in a medium bowl, stirring with a whisk. Cut in butter with a pastry blender or 2 knives until mixture resembles coarse meal. Add sour cream, cheddar cheese, 1 tablespoon water, chipotle chile, and egg; stir just until moist. Knead in bowl with lightly floured hands just until dough forms.
Divide dough in half. Shape each half into a 6-inch circle on a baking sheet coated with cooking spray. Cut each circle into 6 wedges; arrange wedges 1 inch apart on pan. Bake at 350° for 20 minutes or until browned. Serve warm.
Nutritional Information
Calories:134 (30% from fat)
Fat:4.5g (sat 2.6g,mono 0.9g,poly 0.3g)
Protein:4.3g
Carbohydrate:18.8g
Fiber:0.7g
Cholesterol:30mg
Iron:1.2mg
Sodium:320mg
Calcium:125mg
These are perfect for the weekend but also reheat nicely for about 25 seconds in the microwave. I ate one for breakfast everyday this week!
I was a bit intimidated to try baking scones, this was my first attempt and they turned out great. Definitely give them a try. Do you have a favorite scone recipe? I'd love to hear about it, comment on this post or email me at eatdrinkpretty@gmail.com.