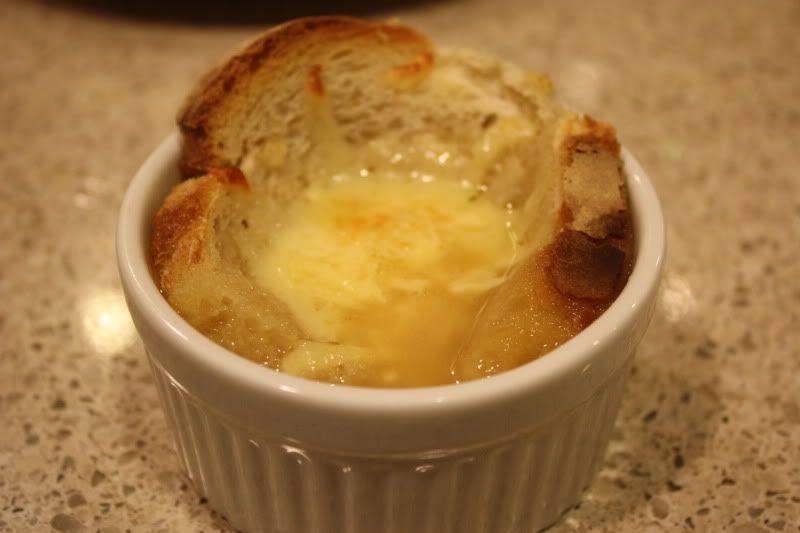 French Onion soup is so warm and comforting. It truly makes a great addition to any winter meal. And as I will Spring to come soon to MN I feel almost wrong about posting a recipe for a wintry soup, but it is too delicious not to share. And you can't go wrong with comforting soup every now and then.
Chef Ani (Culinary Director of Whole Foods) carmelized the onions prior to the class beginning. They take about an hour so this soup is not something to be whipped out in minutes, but the end result is so worth the wait.
Click here for a part 1 of the Parisian Bistro cooking class for a wonderul Salad Nicoise recipe.
Bon appetit!
French Onion Soup (recipe credit to Chef Ani and Whole Foods)
Ingredients
2 cups caramelized onions (recipe for caramelized onions below)
2 cups white wine
1 1/2 cups each chicken broth, beef broth and apple cider
5 sprigs thyme
1 bay leaf
1 load of bread, sliced and cut into rounds the same size as your bowls
1 cup swiss cheese, grated
Directions
Once your onions are caramelized, add wine to pot and bring to a simmer. Scrape the bottom of the pot to get any bits of caramelized onion. Add broths, cider and herbs and bring to a simmer. Simmer 15 minutes. Remove bay leaf and thyme and ladle soup into ramekins. Top each ramekin with a slice of bread and sprinkle with cheese. Preheat broiler to high and place ramekins under the broiler. Broil until cheese is melted, about 3-5 minutes. Serves 8-10 as a soup course, 4-6 as a main course.
Caramelized Onions
Heat 3 tablespoons of oil in a large nonstick pan over low heat. Add four thinly sliced or chopped onions and 1 teaspoon of salt. Cook slowly for 45-60 minutes, stirring occasionally. Makes 2 cups.
One thing to note about the ingredients, you can substitute the chicken and beef broth for vegetable broth. I also thought the recipe had a bit too much apple cider flavor so I would probably reduce that amount by half and increase the beef broth.