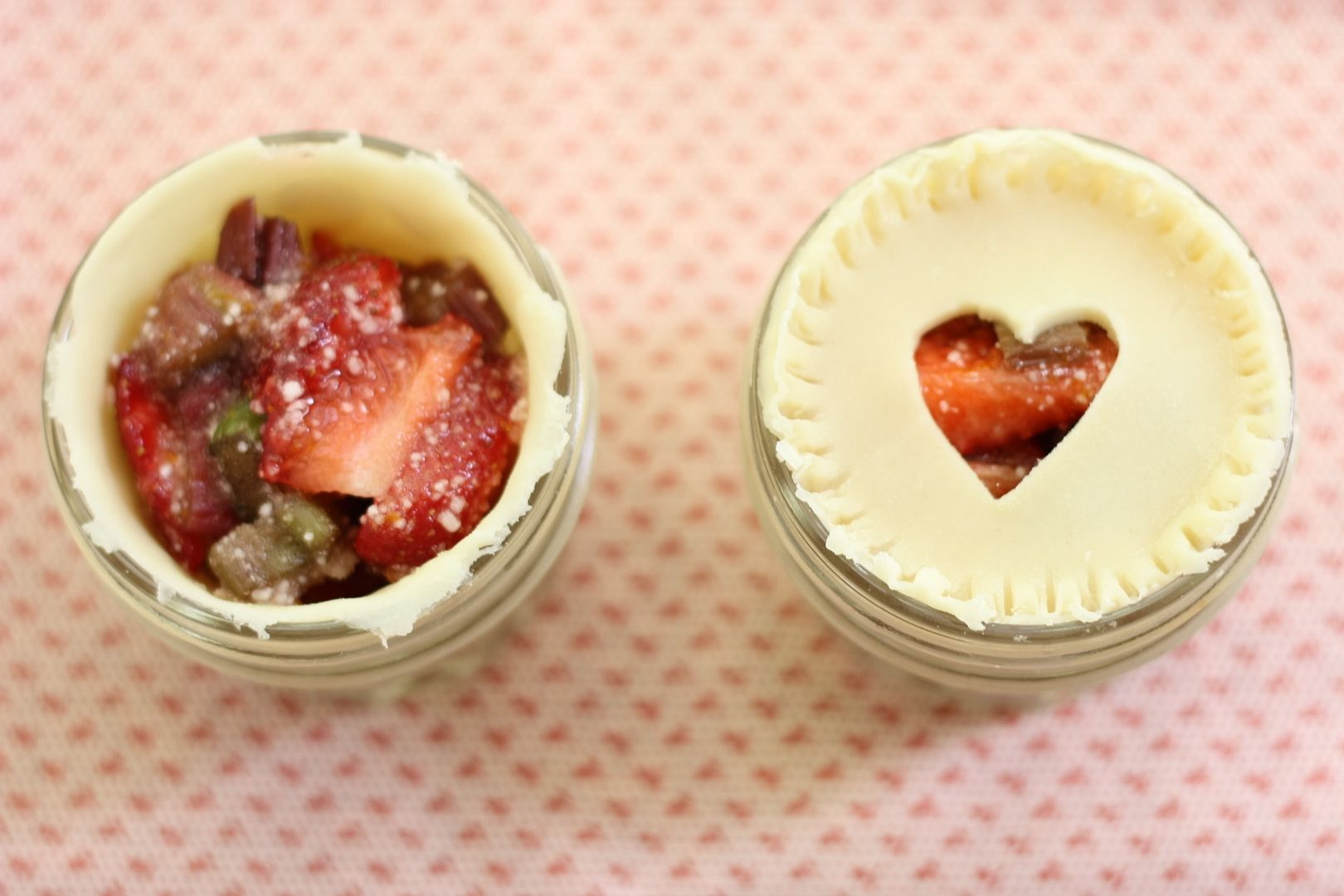 Are you ready for total pie cuteness overload? I made these pies in jars last Friday on my day off from work after finding some inspiration from the blogosphere. I was thrilled that not only were these super easy, but they are delicious and the freaking cutest thing I've ever seen.
I purchased the mini canning jars from Ace Hardware (12 jars for $9.50) and used a pre-made unbaked pie crust (near the pillsbury biscuits in your grocery store). For the filling I used a strawberry rhubarb filling from Simply Recipes. The filling is very easy and a great way to use rhubarb, which is very much in season right not.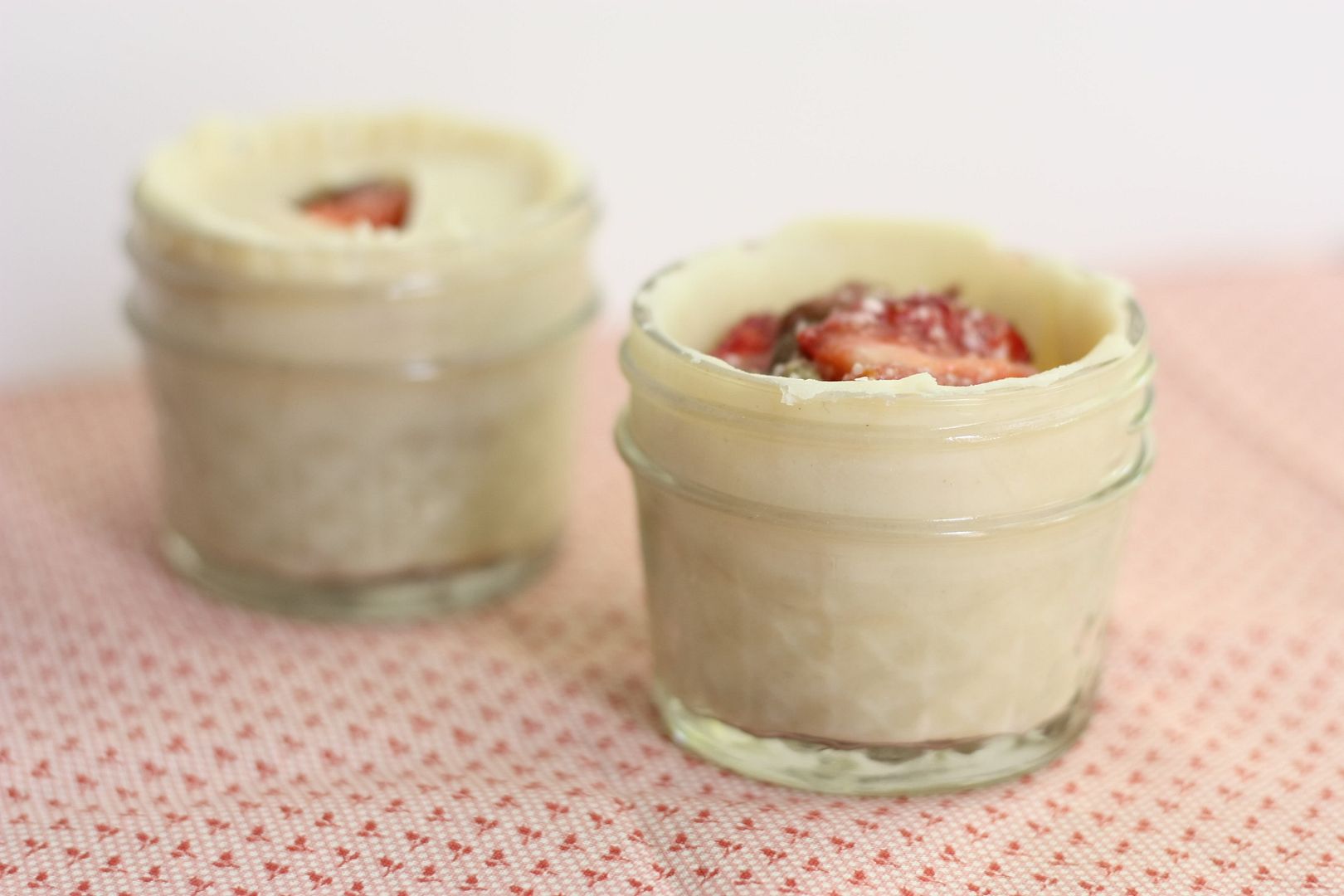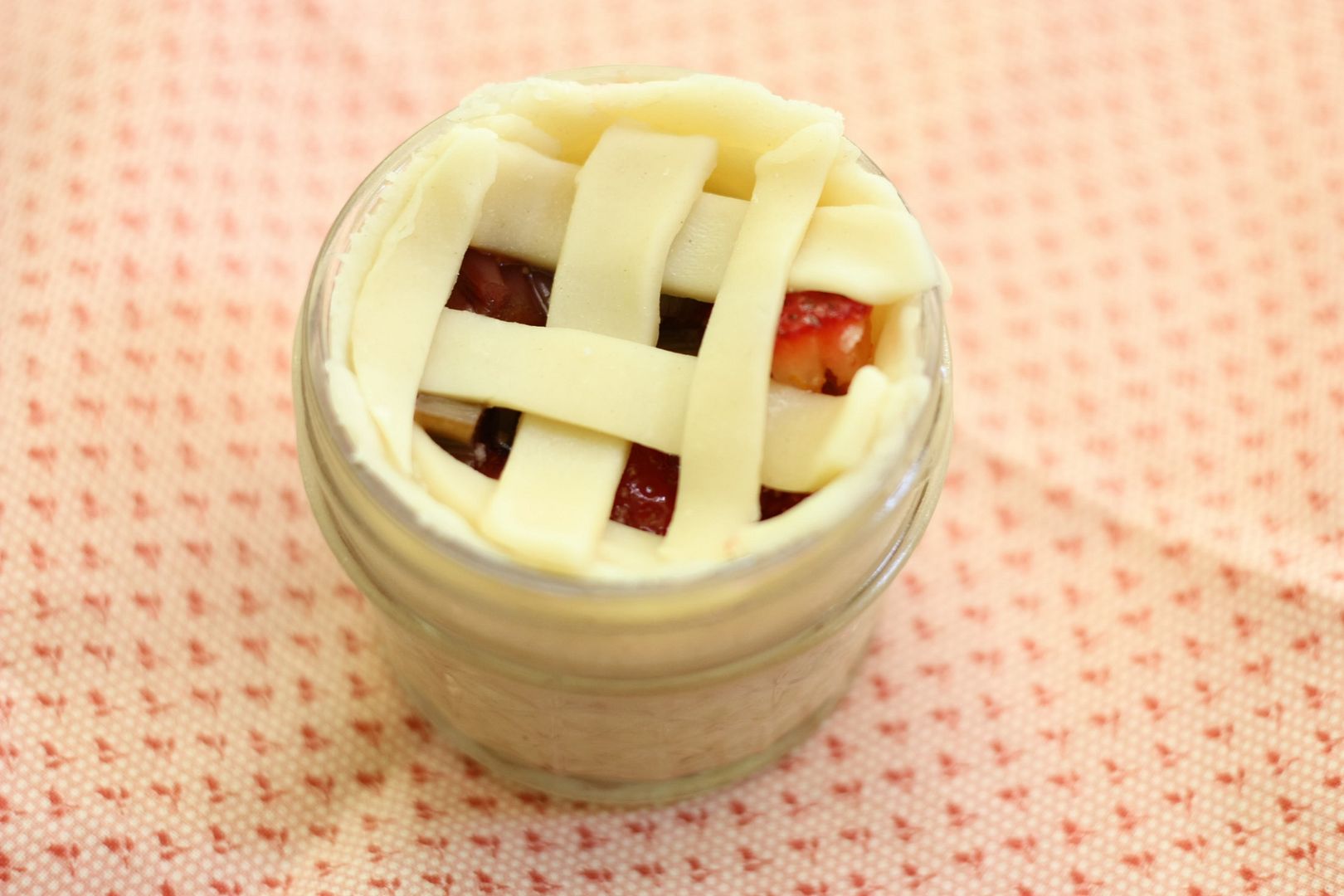 I even attempted a mini lattice pattern…didn't turn out that great but still pretty cute!

I made a few of these mini pies in jars and some of the tops sunk in or the filling oozed out. I think you have to be very careful about only spooning the solid filling into the jars and avoid too much liquid. Also, be sure to not put too much filling into the jar or it will overflow while baking.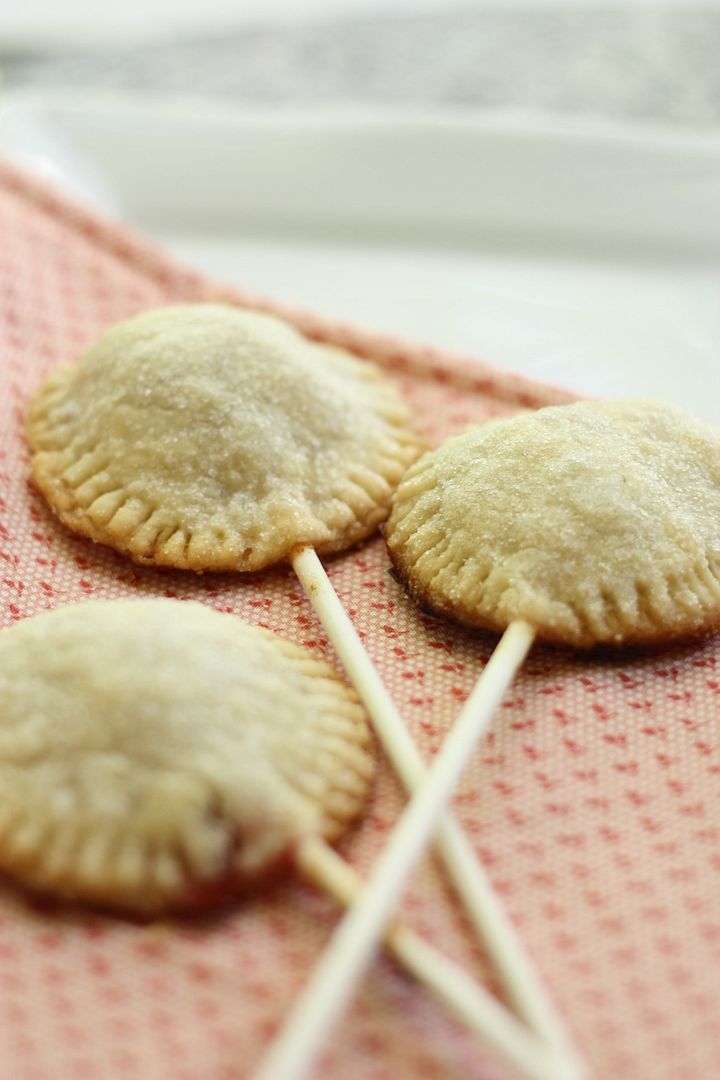 I had some extra pie crust and strawberry rhubarb filling so I made some pie pops, instructions courtesy of the always amazing Bakerella. These were also super easy and perfect, little bites of pie. Can you stand the cuteness???
Make these pies in jars and pie pops! They were both incredibly easy but has a major wow factor. They would be perfect for any baby/bridal shower.

mini strawberry rhubarb pies
Author:
Filling: simply recipes. Pies: our best bites
Ingredients
3 cups rhubarb stalks cut into ½ inch pieces (Trim outside stringy layer of large rhubarb stalks; make sure to trim away any and discard of the leaves which are poisonous; trim ends.)
1 cup strawberries, stemmed and sliced
1 cup sugar
3 Tablespoons of quick cooking tapioca (I used Minute brand tapioca)
¼ teaspoon of salt
1 teaspoon of grated orange peel
2 tablespoons butter, melted
2 tablespoons sugar
Store-bought pie crust (typically one package comes with 2 pie crusts)
Small canning jars (these can be found at grocery stores, hardware stores or Target)
Instructions
Mix the rhubarb and the strawberries with the sugar, tapioca, salt, and orange rind. Let sit for 10 minutes.
Allow the pie dough to come to room temperature for about 20 minutes.Roll out a small handful of dough for the tops of your pies. Grab the ring part of your jar and use that as your cookie cutter. Cut out the tops and set aside.
Use the rest of the dough to line the jars, taking small pieces and pressing them against the side and bottom. Greasing the jars is not necessary.
Fill up the pies using your strawberry rhubarb filling. Don't overfill! Add the pie tie and cut a slit so that steam can escape during cooking.
Brush the tops of the pies with melted better and sprinkle with sugar.