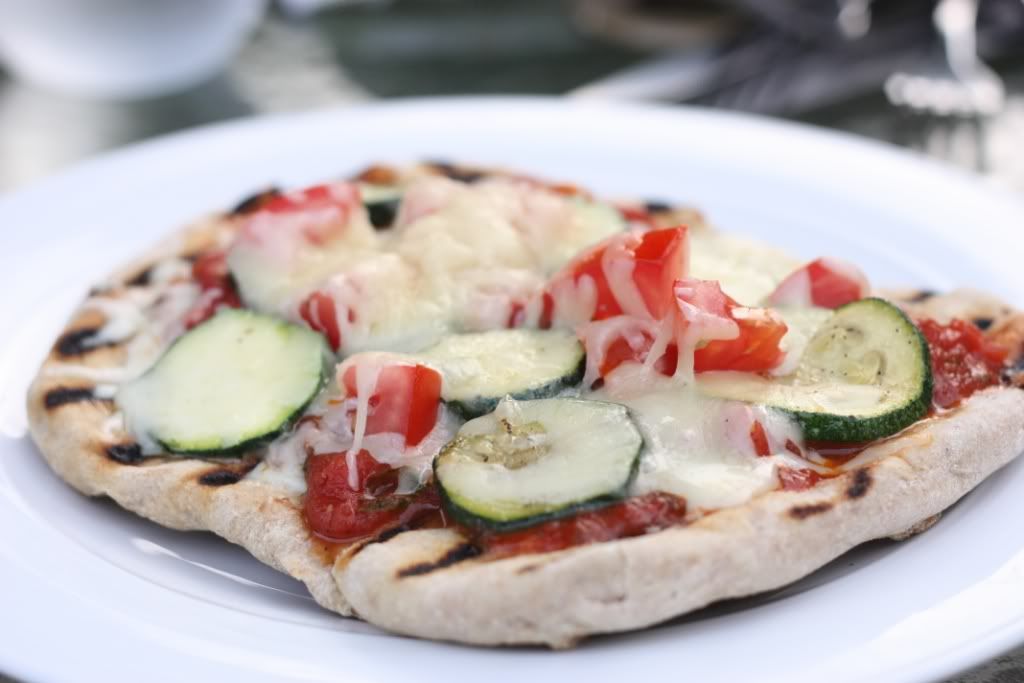 I've been wanting to grill pizza for a while now but have been nervous about it. There was something about making homemade pizza dough and placing it on a hot grill that intimidated me. Despite that, my friend Libby and I gave it a shot last night and it was amazing. Easy too.
The dough was awesome, completely perfect. It had a nice crunch on the outside but was soft and chewy on the inside. I used zucchinis, onions, oregano and tomatoes I bought at the farmer's market to make a fresh (and somewhat healthy) pizza.
Grilled pizza is a nice departure from the typical burger, brat or hot dog you would eat at a BBQ. I'll definitely be making this again soon.
Grilled zucchini, onion and tomato pizza (recipe adapted from Eating Well and Everyday Food July/August 2010 issue)
Ingredients
Crust preparation
3/4 cup plus 2 tablespoons lukewarm water, (105-115°F)
1 package active dry yeast, (2 1/4 teaspoons)
1 teaspoon sugar
1/2 teaspoon salt
1 cup whole-wheat flour
1 cup bread flour, or all-purpose flour, plus additional for dusting
2 tablespoons yellow cornmeal
Preparation
Crust
1.Stir water, yeast, sugar and salt in a large bowl; let stand until the yeast has dissolved, about 5 minutes. Stir in whole-wheat flour, bread flour (or all-purpose flour) and cornmeal until the dough begins to come together.
2.Turn the dough out onto a lightly floured work surface. Knead until smooth and elastic, about 10 minutes. (Alternatively, mix the dough in a food processor. Process until it forms a ball, then process for 1 minute to knead.)
3.Place the dough in an oiled bowl and turn to coat. (To make individual pizzas, see Variation.) Cover with a clean kitchen towel and set aside in a warm, draft-free place until doubled in size, about 1 hour. Individual variation: The dough can be turned into 4 or 6 personal-size pizzas. After kneading, divide the dough into 4 or 6 equal balls. Brush with oil and place 3 inches apart on a baking sheet. Cover and set aside until doubled in size, about 1 hour. Roll each portion into a 6-to-8-inch circle and brush with olive oil.
Sauce
In a medium saucepan, heat 3 tablespoons extra-virgin olive oil over medium-high. Add 2 minced garlic cloves; cook until fragrant, about 1 minute. Add 1/4 teaspoon red-pepper flakes (optional) and 1 can (28 ounces) whole peeled tomatoes, breaking them up as you go. Season with course salt and ground pepper. Bring to a boil, then reduce to a rapid simmer. Cook, stirring often, until sauce thickens, about 15 minutes. Stir in 1 teaspoon minced fresh oregano leaves.
Toppings
1 onion, chopped
2-3 medium sized zucchinis, sliced
Shredded or fresh mozzarella
Saute the onion and zucchini with 1 tablespoon of butter for about 5-7 minutes on medium heat. Season with salt and pepper to taste. Remove from heat and set aside.
To grill the pizza:
Set up a grill with heat source, coals or gas, on one side over medium-high. Clean and lightly oil hot grill.
Using your hands, place dough, oiled side down, directly over heat source. Brush dough with olive oil and cook until underside is lightly charred and bubbles form all over top, 1 to 2 minutes. With tongs, flip dough and cook until lightly charred, 1 to 2 minutes. Slide dough to cooler side of grill.
Top with sauce, zucchini and onions, tomatoes and cheese (or any toppings of your choice!); cover grill. Cook until cheese melts and toppings are heated through, 2 to 5 minutes.
Delicious!
I hope you all have a wonderful weekend. I am hanging out with a couple girlfriends, getting a massage and probably drinking a glass or two of wine. My hubby is up north at a bachelor party this weekend which can only mean one thing…trouble!
I have a super fun (and pretty…and tasty!) post on Monday that is not to miss. It is a rustic raspberry (mini) dessert table I created that was inspired by the fresh raspberries at the St. Paul farmers' market. Think mini cheese cake shooters, raspberry pie and mini vanilla cupcakes. I'll share recipes, as well!
See you on Monday!