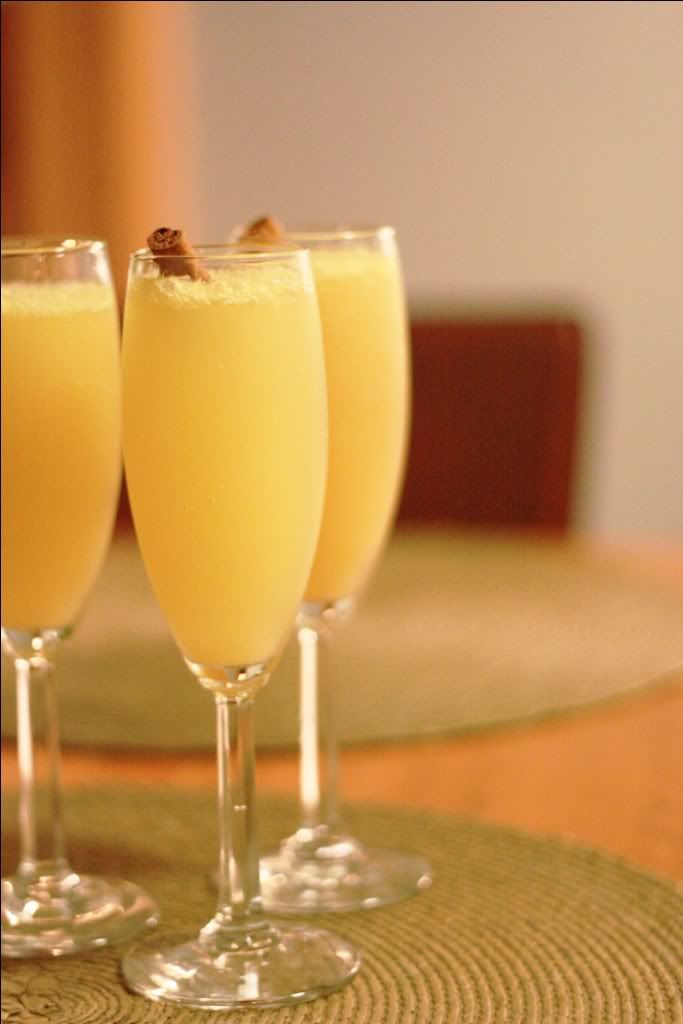 My friends Maija, Brooke and I got together for a dinner party on Saturday night. We created a menu inspired by fall, comfort food. The three of us were in need of a fun girl's night with plenty of wine and good conversation. There was no shortage of any of the above. Thanks for a great night ladies!
Menu
Apple cider punch (pictured above)
Carmelized onion tart
Pumpkin soup with sage and gruyere croutons
Macaroni and cheese with butternut squash
The tart was easy and delicious. Puff pastry is such an awesome item to always have on-hand. I've used it a lot lately for parties and fast meals.
Caramelized onion tart (recipe adapted from Pepperidge Farm)
Ingredients
1 sheet puff pastry
2 tablespoons vegetable oil
1 sweet onion, thinly sliced
1 1/2 cups shredded Gruyère cheese OR bag Swiss cheese (6 ounces)
1/4 cup grated Parmesan cheese
2 tablespoons chopped fresh chives
Preparation
Thaw the pastry sheet at room temperature for 40 minutes or until it's easy to handle. Heat the oven to 400°F. Line a baking sheet with parchment paper or spray with vegetable cooking spray.
Heat the oil in a 12-inch skillet over medium heat. Add the onion and cook for about 15 minutes or until golden, stirring often. Season to taste and let cool.
Unfold the pastry sheet on a lightly floured surface. Roll into a 12-inch square. Place on the prepared baking sheet. Brush the edges of the square with water. Fold over the edges 1/2 inch on all sides, pressing firmly with a fork to form a rim. Prick the pastry thoroughly with a fork.
Spread the onion mixture over the pastry crust. Top with the Gruyère and Parmesan cheeses and sprinkle with the chives.
Bake for 20 minutes or until golden and bubbly. Cool for 5 minutes on a wire rack. Cut into approximately 3 x 2-inch rectangles. Serve warm.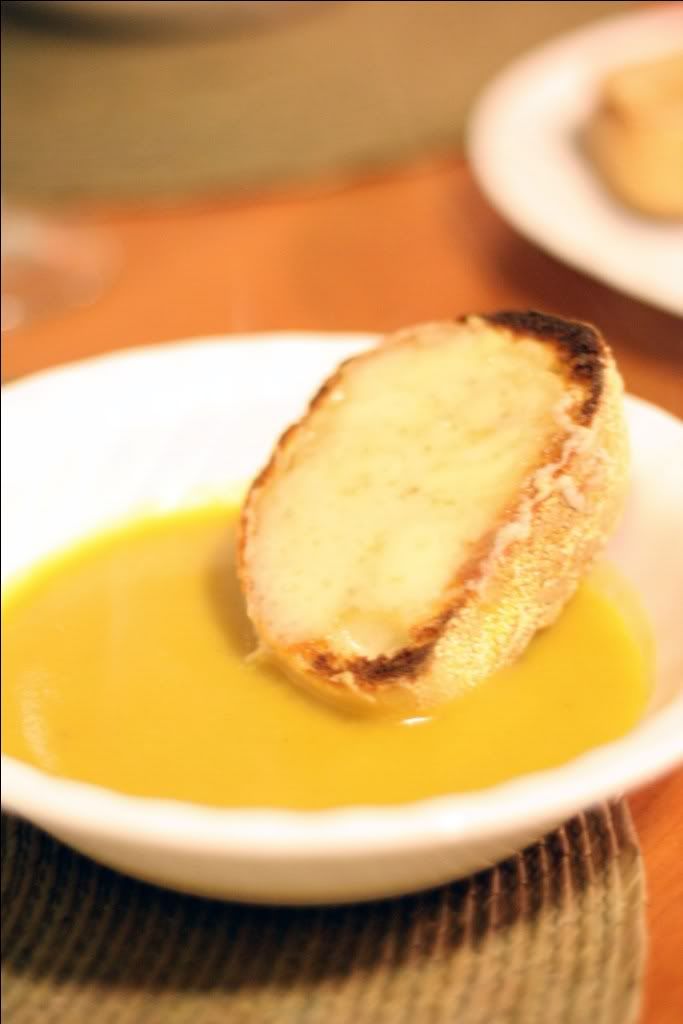 This pumpkin soup was my favorite part of the meal. It is savory and velvety smooth. I purchased the sugar/pie pumpkin at the farmer's market. Peeling and dicing pumpkins is a bit of a process but so worth it. I used one medium sized pumpkin to get 6 cups.
Pumpkin soup with sage and gruyere croutons (recipe adapted from Fine Cooking)
Ingredients
2 Tbs. unsalted butter
1 medium yellow onion, sliced
6 cups 1-inch-diced peeled, seeded pumpkin
2 medium cloves garlic, sliced
1/2 cup dry white wine
8 medium fresh sage leaves
4 to 6 cups lower-salt chicken broth
2-1/4 cups packed grated Gruyère
Kosher salt and freshly ground black pepper
6 slices rustic bread (each about 6×2 inches and 1/2 inch thick)
1 tsp. minced fresh sage
Preparation
Melt the butter in a heavy-duty 4- to 5-quart pot over medium heat. Add the onion and cook, stirring occasionally, until tender, 6 to 8 minutes. Stir in the pumpkin and garlic and cook, stirring, 1 minute more. Add the wine and the sage leaves and cook, stirring, until the wine evaporates, about 5 minutes. Stir in 4 cups of broth, cover, and simmer, adjusting the heat as needed, until the pumpkin is very tender, about 25 minutes.
Add 1/4 cup of the Gruyère and using a handheld or standard blender, purée the soup (in batches, if necessary). Season to taste with salt and pepper.
Return to a gentle simmer, stirring constantly and adding more broth as necessary to achieve a thin soup with the consistency of heavy cream.
Position a rack about 6 inches from the broiler and heat the broiler on high. Arrange the bread on a baking sheet. Toast under the broiler, 1 to 2 minutes per side. Sprinkle the croutons with the remaining 2 cups cheese and the minced sage and season with pepper. Broil until the cheese melts and is bubbly, about 2 minutes. Ladle the soup into warm bowls and serve with the croutons.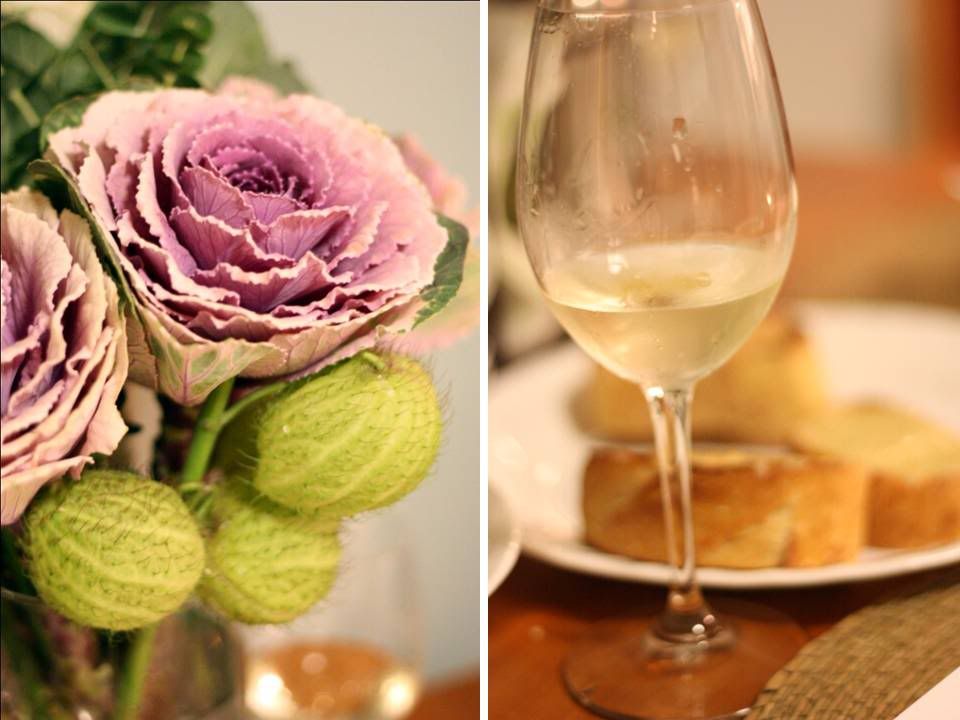 A gorgeous bouquet made of kale from the St. Paul farmers' market

This mac and cheese was good, but I wouldn't say it was great. Maybe by this time I was too full to really enjoy it but the dish wasn't quite as creamy and cheesy as I would like. If I made it again I may substitute some of the milk for heavy cream, reduce the amount of noodles and add a bit more cheese.
Macaroni and cheese with butternut squash (recipe adapted from Martha Stewart)
Ingredients
1 small butternut squash (about 1 pound) , peeled, seeded, and cut into 1-inch cubes (about 3 cups)
1 cup homemade or low-sodium canned chicken stock, skimmed of fat
1 1/2 cups nonfat milk
Pinch of freshly grated nutmeg
Pinch of cayenne pepper
3/4 teaspoon coarse salt
Freshly ground black pepper
1 pound elbow macaroni
4 ounces extra-sharp cheddar cheese, finely grated (about 1 cup)
4 tablespoons Parmesan cheese, finely grated (1 ounce)
2 tablespoons fine breadcrumbs
1 teaspoon olive oil
Olive-oil cooking spray
1/2 cup part-skim ricotta cheese
Preparation
Preheat oven to 375 degrees. Combine squash, stock, and milk in a medium saucepan; bring to a boil over medium-high heat. Reduce heat to medium; simmer until squash is tender when pierced with a fork, about 20 minutes. Remove from heat. Mash contents of saucepan; stir in nutmeg, cayenne, and salt, and season with black pepper. Stir to combine.
Meanwhile, bring a large pot of water to a boil. Add noodles; cook until al dente according to package instructions, about 8 minutes. Drain, and transfer to a large bowl; stir in squash mixture, cheddar, ricotta, and 2 tablespoons Parmesan.
Lightly coat a 9-inch square baking dish (4 inches deep) with cooking spray. Transfer noodle mixture to dish. In a small bowl, combine breadcrumbs, remaining 2 tablespoons Parmesan, and oil; sprinkle evenly over noodle mixture.
Cover with foil, and bake 20 minutes. Remove foil, and continue baking until lightly browned and crisp on top, 30 to 40 minutes more. Serve immediately.
Did you make anything delicious this weekend? I'd love to hear about it, comment and share!