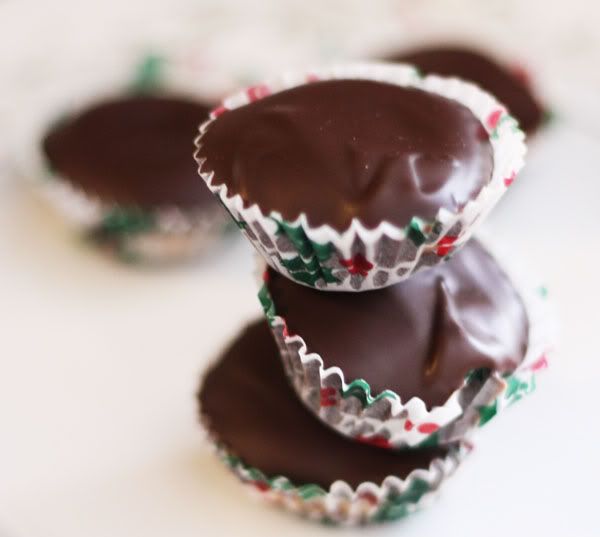 My mom, sister and I got together last weekend to make an old childhood favorite, chocolate peanut butter cups. When my sister, brothers and I were little my mom would always draw a heart in a newly opened jar of peanut butter. Because she always did this, growing up I believe peanut butter came with a heart drawn in it's smooth top. My mom is really awesome, she has a way of making everyday things like opening a jar of peanut butter special.
Chocolate peanut butter cups
Ingredients
1 package chocolate almond bark
1 stick of unsalted butter, at room temperature
2 2/3 cups confectioner's sugar
1 1/2 cups peanut butter
Preparation
In a bowl, combine the peanut butter and butter. Gradually add in the confectioner's sugar and stir to fully incorporate.
Melt the entire package of chocolate almond bark over a double boiler, over low heat, stirring frequently.
Line mini muffin cups on a baking sheet or in a mini muffin tin. Drop melted chocolate into the bottom of the muffin cup to cover the bottom. Add a teaspoon of peanut butter mixture (rolled into a ball then flattened a bit) into the cup and cover with chocolate.
Refrigerate for at least an hour.
These are easy, fast and way more delicious than the store-bought version. They would be a perfect edible gift, just wrap a few in a cellophane bag and tie with a label and ribbon.