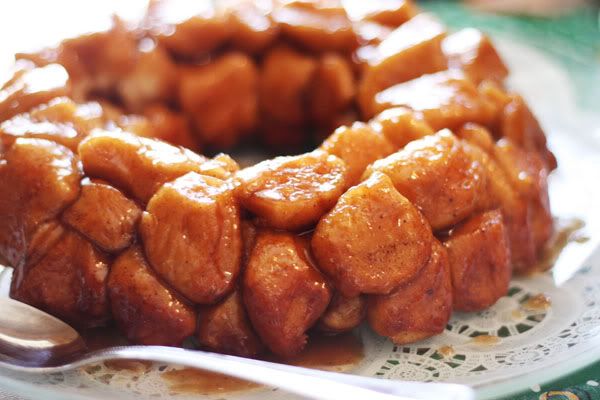 My mom made caramel pull-apart biscuits a lot when I was growing up.  It had been about ten years since I had this treat until last wekend when she made it for a brunch celebrating my younger sister's birthday.  They were as sticky, sweet and delicious as I remembered.  We ate each and every piece.  YUM.
Caramel pull-apart biscuits
2 tubes Pillsbury biscuits (20 total biscuits)
3/4 cup packed brown sugar
1/3 cup butter
2 tablespoons water
1/2 cup sugar
1 teaspoon cinnamon
Preparation
Preheat oven to 400 degrees.  Generously grease a bundt cake pan.  In a small saucepan, heat the butter, water and brown sugar until melted.
Separate the biscuits and cut each into four pieces.  Combine 1/2 cup sugar and 1 teaspoon cinnamon in a bowl. Dredge the biscuit pieces in the cinnamon sugar mixture and then put the biscuits into the bundt pan, spread around evenly.  Pour the caramel mixture (the butter, water and brown sugar) over the biscuits.
Bake for about 20-25 minutes or until golden brown.  Let stand for 3 minutes then invert onto a serving plate.