The talented team at Spaceships and Laser Beams have put together another fantastic table, this one is all about football, quite appropriate for the Super Bowl this weekend.  I am just about the last person on earth to celebrate football.  In my household, where my husband is a complete Vikings fanatic, Sundays are serious business.  Tailgating begins at 5:30am and drinking is a day-long marathon (for him, not me).
But this football table is too cute to resist.  And if I ever have a little boy, I might consider throwing him a party just like this.
I am in love with these cupcakes that look like little burgers.  CUTENESS!
Details told by Stephanie of Spaceships and Laserbeams:
With our Football Collection we wanted to address an issue faced in many families when it comes to party planning – your child wants a football theme but you want something with creativity that's not commercial. We thought the unique color palette and fun illustrations of this collection would satisfy mom and son.
We also thought the dessert table should be a combo of easy to eat, game days snacks as well as easy to eat cupcakes — especially if there is game watching involved in this party. To make things even more simple, we even did a shopping list of what was used. I shop in a Canadian city of about 150,000 people so we know a lot of people will have easy access to this stuff.
Grocery store: Bag of large pretzels, bag of your favorite flavor of chips, bag of popcorn, water or other drink
Cake shop: 18 "novelty" cupcakes or make on your own! (ours are from The Cake Box)
Craft store: pack of small kraft bags
Hardware store: small wooden dowels (each dowel makes two flags)
Dollar store: roll of twine, 3 small bamboo cutting boards, small clothes pins, wine boxes (painted white to act as risers)
Around your house: containers for popcorn and chips (we used ramekins and mason jars), table cloth, napkins, bull clip for sign
Our collection on Etsy: Banner, sign, 1 inch decals, straw decals, favor tags, napkins rings, bottle labels, cupcake wrappers, placemats (for popcorn), tiles (for flags)
From other Etsy sellers: Felted Football (Garsticksandstring), Straws (HeyYoYo)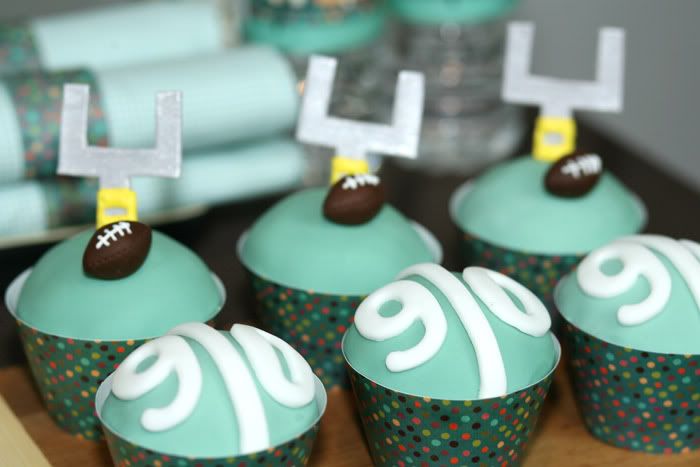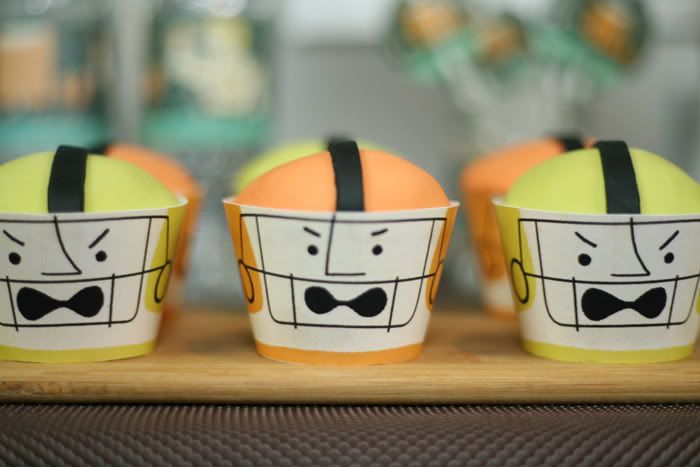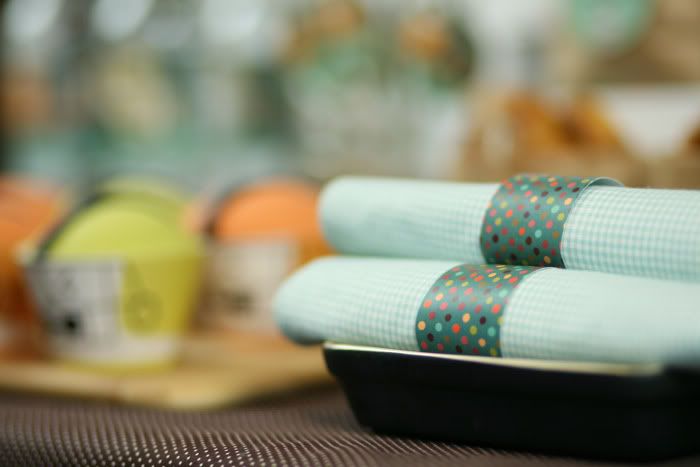 Info about Spaceships and Laser Beams:
- We only do collections for boys – or "non-frilly" girls: we're a no princess zone
- All of our illustrations are 100% original and drawn by hand, they won't be found anywhere else
- All of our collections are created by professional graphic designers, we are people who have work in the corporate world but have been itching to release our inner child
- This collection was designed by Andrew (more of his personal work can be found here)
- The cupcakes were made by the Cake Box
- Items in the collection can be bought individually or as part of a party value pack:
- Because we believe that happy childhoods are about making every day feel special, 5% of all sales goes to the YMCA Strong Kids campaign — to help young boys grow in to strong young men
- You can visit us at our Etsy shop or follow us on Facebook at  or on Twitter. We also have a blog.
Thanks so much to Stephanie for sharing this awesome table!
Do you have a party you'd like to share with Eat Drink Pretty readers? Please send your submission to eatdrinkpretty(at)gmail(dot)com.