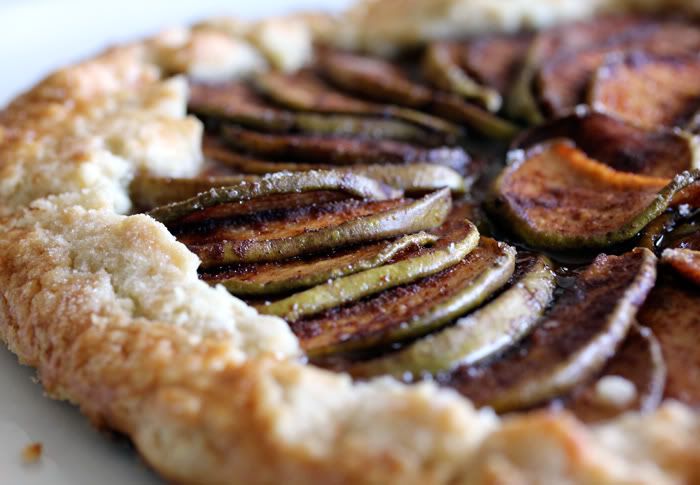 I am thrilled to have Lisa of With Style and Grace blog back for her second guest post (click here for her first). Lisa's blog is filled with beautiful/delicious photos and recipes. Be sure to head over and check out With Style and Grace and you will be quickly become a regular reader. Lisa is a total sweetie and her photo skills are sharpening beyond the speed of light. She is definitely on the rise to something fabulous, just wait and see!
Today Lisa is sharing an amazing pear galette recipe.  Who knew pears could be so beautiful?

As told by Lisa:
You know the saying, "an apple a day keeps the doctor away"? Well, you do now. Anyways, I came up a new one. "A pear a day, keeps your hair from going grey". It's probably just as true as the apple line, right?
My point being, I love pears, probably more than apples. I eat at least one a day and believe it or not, no grey hair. I usually eat them plain or in a salad, but had never baked with them. And I've been missing out. This pear galette was amazing and I'd say a new favorite around here. It's nice and light and in my opinion, it's the perfect dessert to satisfy any after dinner sweet tooth, that is without making you feel 5lbs heavier. It's a
keeper for sure!
This is also a great dessert to serve if you're entertaining or hosting a dinner. To make this even easier, you could always go with the store bought pie crust. You can find it in the freezer sections. It's ok, I won't tell.
Pear galette (adapted from Epicurious)
Ingredients
1 ¾ cups all purpose flour
¼ teaspoon salt
¾ cup (1 ½ sticks) chilled unsalted butter
2 Tablespoons (or more) ice water
1 cup sugar, plus 1 teaspoon for sprinkling
2 Tablespoons cornstarch
1 Tbsp ground cinnamon
5 cups peeled, cored and thinly sliced firm pears – I kept the peel on for a refined
look/feel.
2 teaspoons vanilla extract
1/8 – ¼ cup apricot preserves
1 large egg white, lightly beaten
Directions
Preheat oven to 450 degrees. Line a baking sheet with aluminum foil; set aside. Blend flour and salt in processor. Add butter and pulse, until mixture resembles coarse meal. Add 2 tablespoons ice water & pulse, just until dough begins to clump together, adding more ice water by teaspoonfuls if dough is dry. Gather dough into ball; flatten into disk. Wrap in plastic and chill 1 hour.
Note: You can make the dough 2 days ahead, store in refrigerator. When ready, soften slightly at room temperature before rolling out.
Roll the dough out between two sheets of parchment paper to 1/8-inch-thick round and 14 inches in diameter. Remove the top sheet of parchment. Carefully, transfer the dough (use bottom parchment paper as an aid) to the prepared baking sheet. Chill for about 15 minutes.
In a medium sized mixing bowl, combine 1 cup of the sugar (add more or less to suite your taste), cornstarch, and cinnamon. Add the pears and vanilla. Using a fork, toss to coat with the mixture. Spread the apricot preserves over the crust. Spoon the pears into the center of the crust (on top of preserves), spreading them to within 1-2 inches of the edge. Bring the crust up over the pears to form a border of about 1-2 inches, pleating and folding the crust as needed. To give the pie a polished look, brush the folded edge with the lightly beaten egg white and sprinkle the remaining 1 teaspoon of sugar.
Bake for 20 minutes. Reduce oven temperature to 375°F and continue baking until the crust is golden brown – approx. 30 minutes. Remove from oven. Let cool slightly on wire rack before serving.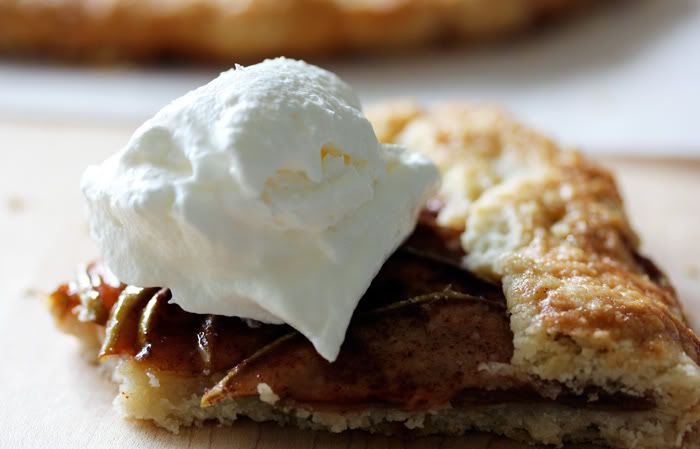 Serve with a soup of ice cream or for a lighter version, top with light cool whip. Enjoy!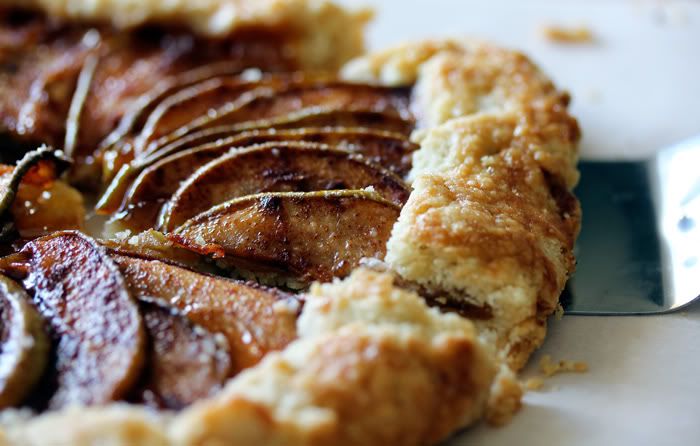 Thanks so much to Lisa of With Style and Grace for guest blogging today!
I have to give a quick shout-out to my hubby, Erik.  Happy birthday honey!  Can't wait to celebrate with you later this evening!  Love you lots.
I hope you all have fantastic weekend plans.  Happy baking!