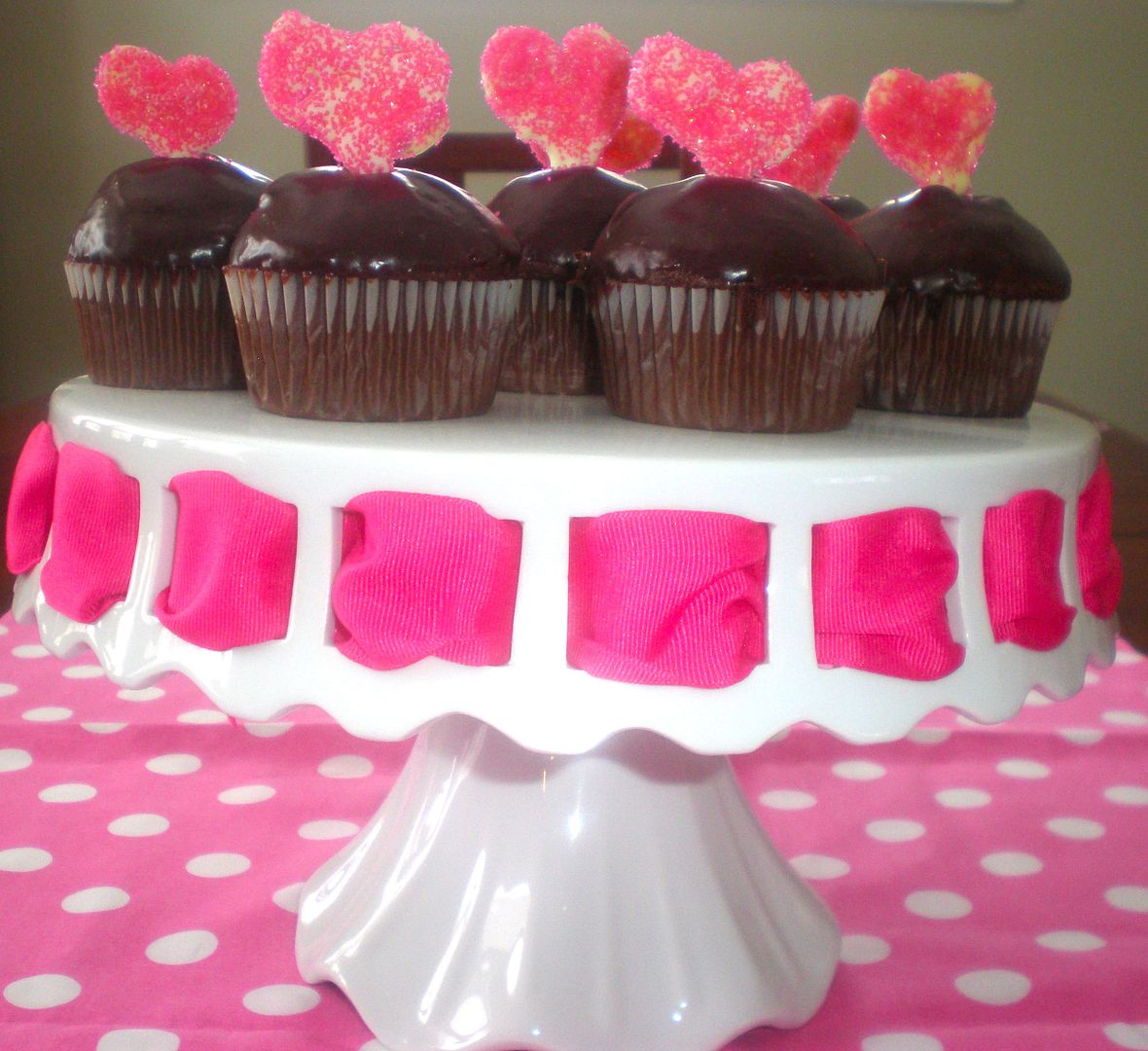 I know that Valentine's Day is over but chocolate cupcakes with handmade white chocolate heart toppers are perfect for any occasion. Today's guest post is from McKenzie of event planning company La La Soiree. You might remember this adorable first birthday party she hosted for her daughter?
McKenzie made these delicious raspberry-filled chocolate cupcakes with ganache and a white chocolate heart topper.  It may sound complicated but she created a semi-homemade recipe that anyone can tackle.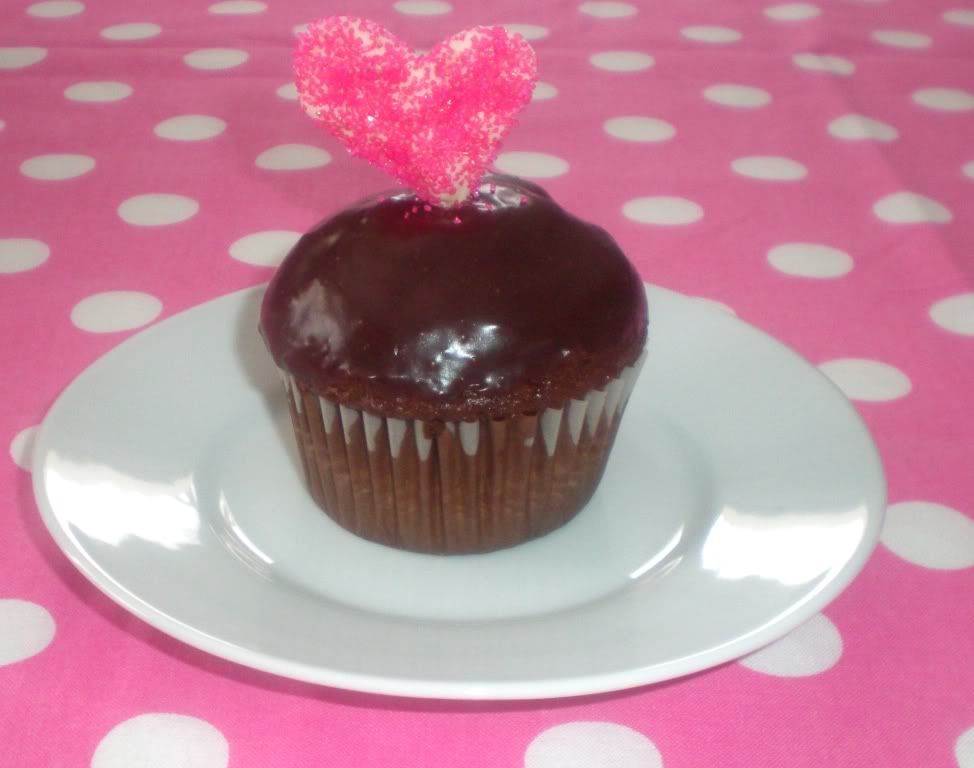 Raspberry-filled chocolate cupcakes with dark chocolate ganache (recipe by La La Soiree)
Ingredients
- Your favorite chocolate cake recipe – or use a boxed mixed. I used Betty Crocker triple chocolate, yum!
- Jar of your favorite raspberry jam or preserves.  We use Polaner All Fruit.
- 3/4 cups semi-sweet chocolate chips
- 1/2 cup heavy whipping cream
- Package of white chocolate chips (such as Ghiradelli)
Directions
Prepare recipe according to directions, allow cupcakes to cool completely.
Using a pastry bag with a long tip or a cookie press with an extended tip, fill vessel (press or bag) with jam.
Insert tip into center of cupcake and fill with preserves. Stop squeezing/filling about ¼ inch from edge of cupcake (if you overfill, it can cause ganache to not stick as well).
Fill remaining cupcakes.
To make the ganache, combine ¾ cup chocolate chips and ½ cup heavy whipping cream in double boiler over simmering water. Whisk until smooth. Remove from heat and let sit 5 minutes.
Once ganache has cooled for 5 minutes, dip cupcakes into ganache. Make sure to swirl cupcakes around the edges of the boiler or bowl – don't just dip into the ganache or you'll get a less-pretty result.
Place ganache-dipped cupcakes into refrigerator (make certain that edges don't touch other cupcakes). Allow to set 1 hour to overnight.
White chocolate cupcake picks
Following directions on package, melt white chocolate over double boiler or in microwave.
While melting chocolate, place a sheet of wax paper on a cutting board or cookie sheet that will fit in your refrigerator. NOTE: if you're using a pattern for your shape, make certain to put the pattern sheet under the wax paper.
Once chocolate is melted and smooth, spoon into plastic bag with edges turned down.
Once bag is about ¼ to ½ full, select edge to cut, force chocolate toward that edge, and snip a very small triangle off the edge of the bag. Squeezing bag slightly, create outline of your shape. Make certain to build a ½ to 1 inch pick out of chocolate at the bottom of the shape.
Fill in outline to create shape.
Once shape has been created, shake colored sugar all over shape to create uniform appearance.
Continue on to remaining picks.
Once picks have all been created, place in refrigerator for 15 or more minutes so chocolate can harden.
When picks have hardened, remove from wax paper, removing pick edge first and lifting straight up from wax paper.
Insert pick into cupcake. Continue with remaining picks and cupcakes.
Thanks to McKenzie for guest posting on Eat Drink Pretty today! Be sure to check out her blog, Stitch and Soiree or "like" her on Facebook.