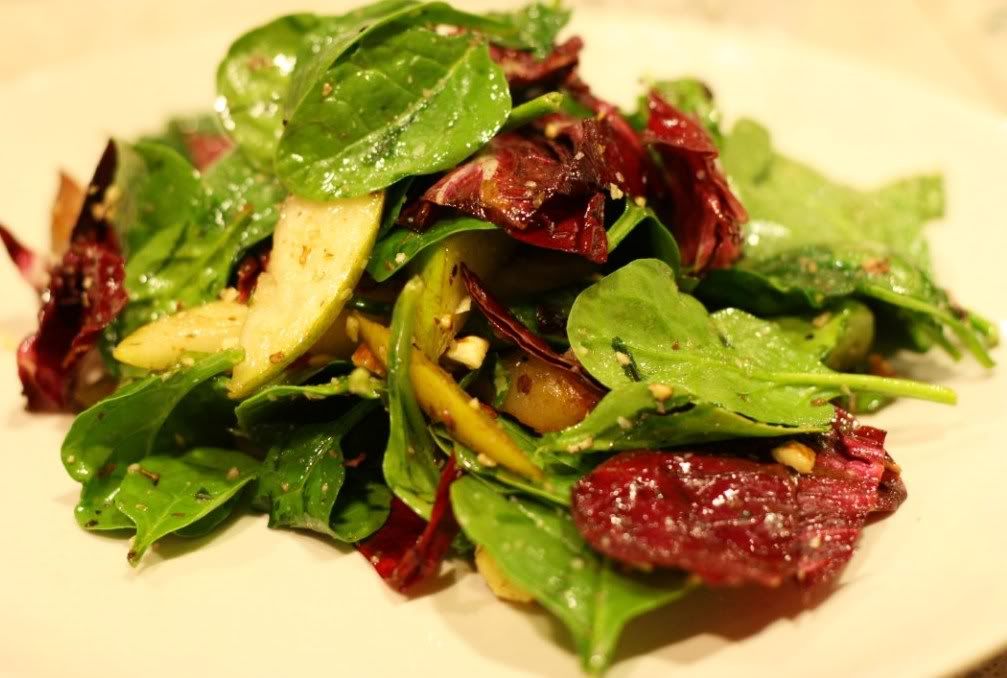 I attended yet another Whole Foods cooking class last week, this one was all about pears. These classes are a favorite past-time for me; amazing food, a wonderful instructor and the bonus is grocery shopping at Whole Foods after the class.
This was a wonderful, winter salad. I loved the salty bite of the pancetta married with the pears.
Seasonal salad with pears, pancetta, and hazelnuts (recipe credit to Whole Foods / Ani Loizzo)
Ingredients
5 ounces baby spinach
1 small head radicchio, chopped
2 pears, sliced
8 ounces pancetta, cut into half inch cubes
10 leaves of basil, sliced immediately before serving
1/3 cup hazelnuts, toasted and chopped
2 tablespoons balsamic vinegar
Rendered fat from pancetta, plus olive oil to equal 1/4 cup
Preparation
Heat a cast iron or stainless steel pan over medium heat. Add pancetta and fry until crisp, about ten minutes. Remove pancetta from the pan, then pour carefully rendered pancetta drippings and olive oil as needed to the bottom of your serving bowl. Whisk in balsamic vinegar, then add greems, pears, hazelnuts, basil and pancetta and toss to combine. Season with salt and pepper to taste. Serves 6-8.
If you live in the Twin Cities be sure to check out the cooking classes at the Minneapolis Whole Foods.